BALL JOINTS
Ball joints are suspension parts which enable the wheels and suspension to move effectively together.


Comfortable and safe with MOOG® ball joints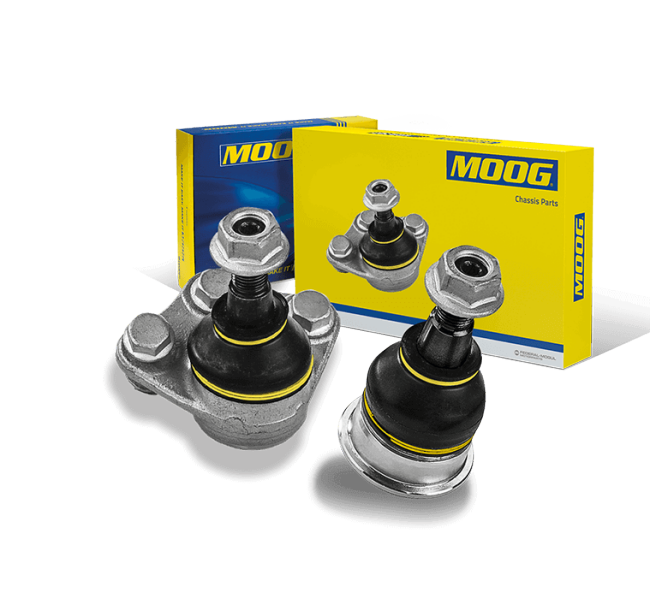 Ball joints that go the extra mile for you and your customers
Recent innovations in our range of ball joints have ensured that they have the characteristics and performance that is expected from MOOG. Induction hardening has doubled stud strength and increased durability by a factor of five, which also improves safety. Durability is also enhanced thanks to the new hybrid core carbon fibre bearing which has better friction properties and the increase in radial deflection is reduced by 40% on average. Switching to a new synthetic grease makes the ball joint easier for you to fit as well as delivering optimum smoothness. The zinc flake coating on accessories not only looks better, it also improves corrosion resistance, while the flanged nuts allow higher locking force which boosts safety. Both our press-in and bolted ball joints have new housing coatings which improve their appearance and resistance to corrosion.
As you can see, we've gone the extra mile with all these innovations to ensure that your customers can enjoy years of smooth and safe motoring.
From now on, you'll be able to recognize our differentiated Steering & Suspension products instantly in their bright new packaging.

TIP : Lower-grade steel and/or the wrong heat treatment can be cheaper but also reduce the lifetime of the part by up to 50%.

3D Product Animation Press-In Ball Joints
 
Key Product Features
Zinc flake coated and flanged nuts and bolts: Corrosion-resistance and increased locking force

Metal sealing rings: Optimal sealing

Carbon fibre reinforced bearing: Less friction and more durable

Induction hardened stud: More durable and stronger
Find parts for a previously entered vehicle
| Engine | MotNr | Fuel Type | Bore | Stroke | Cylinders | CC | kW/PS | Aspiration | Valves |
| --- | --- | --- | --- | --- | --- | --- | --- | --- | --- |
| {{ engine.make }} {{ engine.code }} | {{ engine.tecdoc_id || "-" }} | {{ engine.fuel_type || "-" }} | {{ formatPreciseValue(engine.bore) || "-" }}mm | {{ formatPreciseValue(engine.stroke) || "-" }}mm | {{ engine.cylinder_count || "-" }} | {{ maxAndMin(engine.cc_tech_range) || "-" }} | {{ maxAndMin(engine.kw_range) || "-" }} / {{ maxAndMin(engine.hp_range) || "-" }} | {{ engine.aspiration_type || "-" }} | {{ engine.valve_count || "-" }} |
Part Finder

Find parts for a previously entered vehicle

| Engine | MotNr | Fuel Type | Bore | Stroke | Cylinders | CC | kW/PS | Aspiration | Valves |
| --- | --- | --- | --- | --- | --- | --- | --- | --- | --- |
| {{ engine.make }} {{ engine.code }} | {{ engine.tecdoc_id || "-" }} | {{ engine.fuel_type || "-" }} | {{ formatPreciseValue(engine.bore) || "-" }}mm | {{ formatPreciseValue(engine.stroke) || "-" }}mm | {{ engine.cylinder_count || "-" }} | {{ maxAndMin(engine.cc_tech_range) || "-" }} | {{ maxAndMin(engine.kw_range) || "-" }} / {{ maxAndMin(engine.hp_range) || "-" }} | {{ engine.aspiration_type || "-" }} | {{ engine.valve_count || "-" }} |

Your Vehicle

Your Engine

| Engine | MotNr | Fuel Type | Bore | Stroke | Cylinders | CC | kW/PS | Aspiration | Valves |
| --- | --- | --- | --- | --- | --- | --- | --- | --- | --- |
| {{ engine.make }} {{ engine.code }} | {{ engine.tecdoc_id || "-" }} | {{ engine.fuel_type || "-" }} | {{ formatPreciseValue(engine.bore) || "-" }}mm | {{ formatPreciseValue(engine.stroke) || "-" }}mm | {{ engine.cylinder_count || "-" }} | {{ maxAndMin(engine.cc_tech_range) || "-" }} | {{ maxAndMin(engine.kw_range) || "-" }} / {{ maxAndMin(engine.hp_range) || "-" }} | {{ engine.aspiration_type || "-" }} | {{ engine.valve_count || "-" }} |

Your Part