Known for its ability to consistently develop problem-solving solutions, MOOG® takes pride in its reputation as "The Problem Solver®." From part enhancements to improvements in the product development process, the MOOG team is constantly striving for product improvement. MOOG's solution for testing dust boots exemplifies this problem-solving spirit.
Testing Is Key
Thoroughly testing a part before it goes to market is a large part of MOOG's success in developing premium steering and suspension parts that meet or exceed OE specifications. Testing ensures that a part is free of any issues that could cause it to wear out prematurely. The process helps identify any weaknesses in the design that should be adjusted to improve its on-vehicle performance.
Before physical testing begins, computer simulation takes place. This important step streamlines the process and ensures the reliable performance of MOOG's dust boots. Prior to finalizing the dust boot design and making molds, MOOG engineers perform a simulation to optimize the stress in the part throughout the range of movement.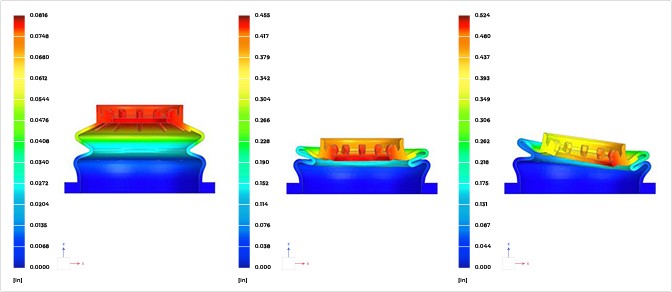 Computer simulation of a dust boot being compressed and swung.
Challenge Presented – Solution Delivered
Dust boots are a critical component on MOOG ball joints and control arms for protecting the joint from water, dirt and other debris. If the dust boot fails and lets contamination get into the joint, it is likely that it will wear out prematurely.
Decades ago, MOOG recognized there was a need for dust boot testing that was capable of reproducing undercar operating conditions and providing test results in an accelerated time frame. With no commercial boot testers on the market, the MOOG team set out to find a solution to the challenge.
In keeping with its problem solver mindset, MOOG didn't wait for someone else to come up with a piece of testing equipment to do the job. Instead, MOOG developed and produced a proprietary dust boot tester that exposes steering and suspension dust boots to extreme temperatures and introduces a water and slurry solution spray while simulating the motion of the ball joint.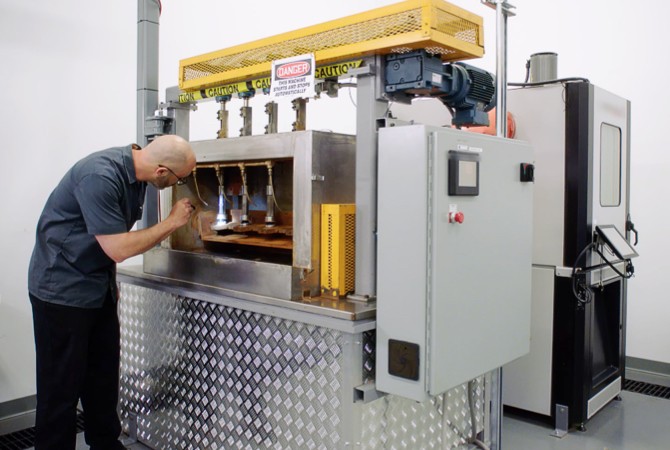 Extreme Testing
MOOG designed the boot tester to handle the rigorous testing needed to ensure that the dust boots used on ball joints and control arms can handle the rigors of the road. Extensive testing is carried out to make sure that the boot performs in extreme temperatures – hot and cold.
This detailed analysis also includes tests to ensure that tears or holes don't develop in the boot. Testing is also conducted to ensure that the materials used in the dust boot can hold up to grease, road grime, grit, car wash soap and brake cleaner.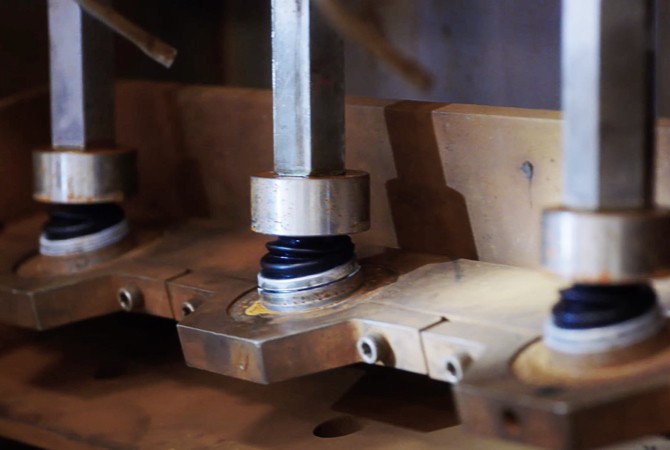 From Comprehensive Testing to Premium Chassis Parts
The result of this comprehensive testing is dust boosts that hold up to real-world conditions with lasting endurance. MOOG dust boots protect socket components from wear-causing contaminants to deliver long-lasting quality you can count on.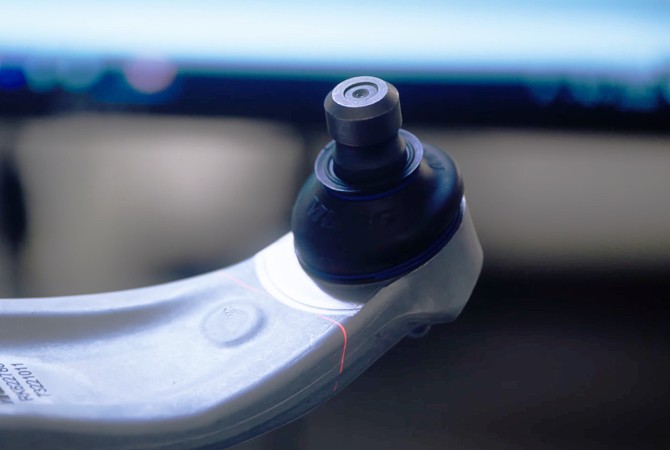 ---
Learn more about premium steering and suspension parts, find your car part, or find where to buy your auto part today.
The content contained in this article is for informational purposes only and should not be used in lieu of seeking professional advice from a certified technician or mechanic. We encourage you to consult with a certified technician or mechanic if you have specific questions or concerns relating to any of the topics covered herein. Under no circumstances will we be liable for any loss or damage caused by your reliance on any content.