PRECISION-ENGINEERED AND TESTED
MOOG® MAKES THE RIGHT CONTROL ARM FOR YOUR APPLICATION
Control arms are a critical safety component—to ride right, to handle right, and to ensure safety and dependability they need to be engineered and built right. We make thousands of control arms for the broadest range of applications. And while no two applications are the same, every MOOG control arm is engineered and manufactured with the same goal in mind—to ensure durability.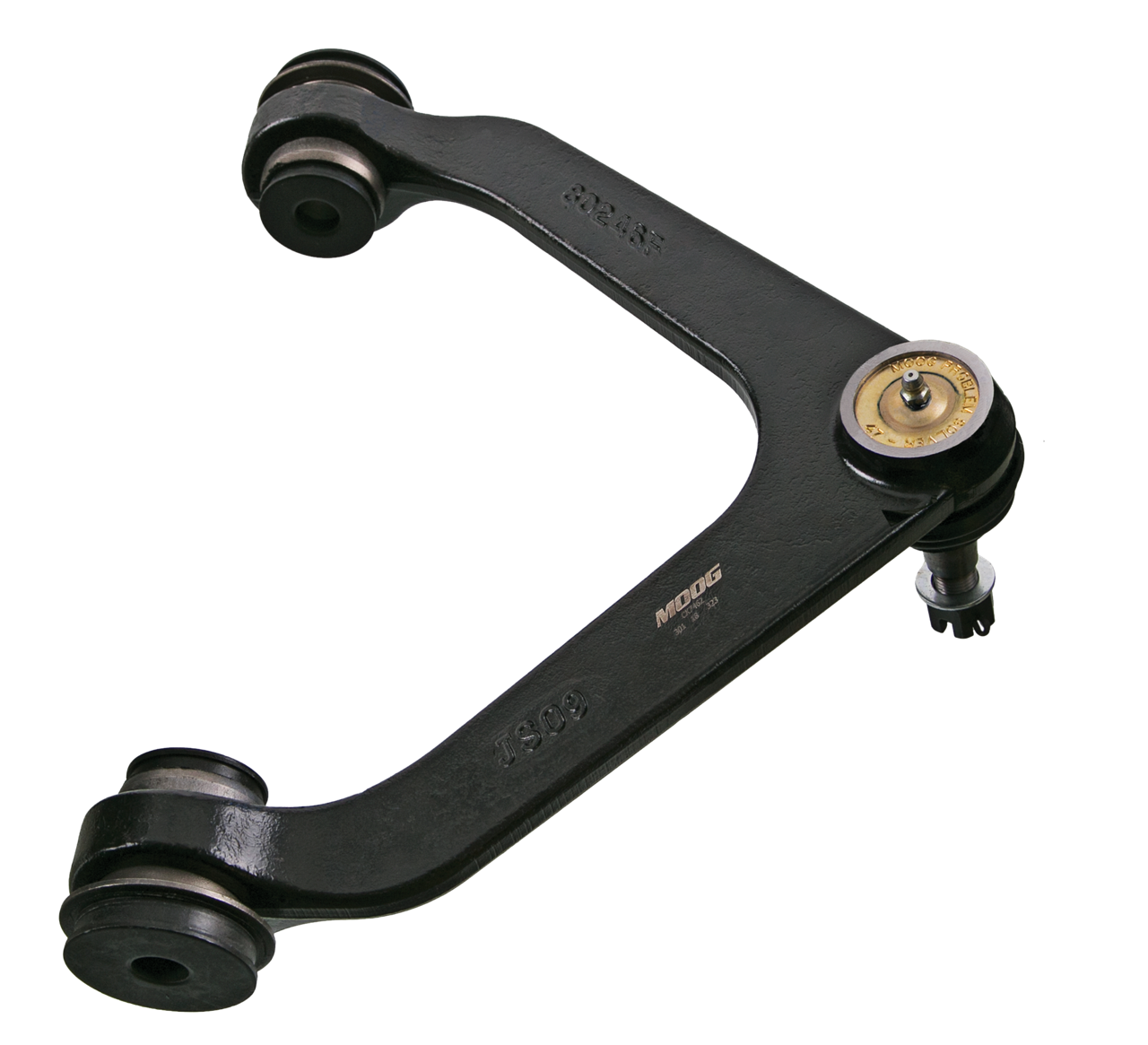 MOOG ENGINEERING AT THE HEART OF EVERY PART
MOOG Premium Control Arms
Heat treatment that matches or exceeds OE requirements
Galvanic corrosion protection on studs
Pre-installed bushings with optimized stiffness to prevent noise
eCoat corrosion protection on cast iron and steel components
Precision tolerances for easy installation and alignment
Pre-installed, sealed socket ball joints and low-friction synthetic bearings
Arm strength validated to exceed minimum requirements
MOOG CONTROL ARMS HAVE ENHANCED STRUCTURAL STRENGTH
ENHANCED STRUCTURAL STRENGTH
Inhibits Premature Failure
HEAT-TREATED FOR HARDNESS
We heat treat critical components like the stud. MOOG studs are heat treated to ensure that they will bend, but not break when faced with a sudden curb or nasty pothole.
OE+ Metallurgy
The material and heat treat of each control arm is carefully selected with comparison to the metallurgical specs to the OE part that came installed on the vehicle.
ADDED CORROSION PROTECTION - Inhibits premature deterioration
Galvanic Corrosion Protection
We apply coatings to studs (where needed) to prevent galvanic corrosion with mating aluminum components. These coatings maintain the integrity of the connection of the stud to mating aluminum components to promote a long service life.
E-Coat
We E-coat cast iron and steel control arms to reduce corrosion and protect exposed metal from the elements.
HIGHLY PRECISE ENGINEERING - Better ride, fit and serviceability
Installation Ready
MOOG ball joints are pre-installed or integral for easy installation and tightly sealed for maintenance-free operation to help protect the socket from dust, water and other debris.
Optimized Bushings
Our engineering team optimizes our natural rubber bushings to ensure they can absorb substantial loads, reducing the chance of splitting, discoloring, cracking or tearing with age. The result is quiet operation and resistance to wear, salt, road grime and oils.