MOOG®
Hub Assemblies
Hub assemblies from MOOG, the preferred brand of replacement chassis parts by professional technicians.


---
Latest innovations (where needed) provide state-of-the-art resistance against damaging water, dirt and contaminants.
1. Quad-Lip Inboard Seal to provide optimal moisture protection
2. Molded Grommet to protect ABS cable and ensure integrity of the Traction Control and Anti-Lock Braking Systems
3. Primary Outboard Seal to protect components from mud, sand and road chemicals
4. Grime Defense Outboard Seal helps prevent contaminant buildup on the assembly exterior, working to shield bearings from friction-and corrosion-causing moisture and grime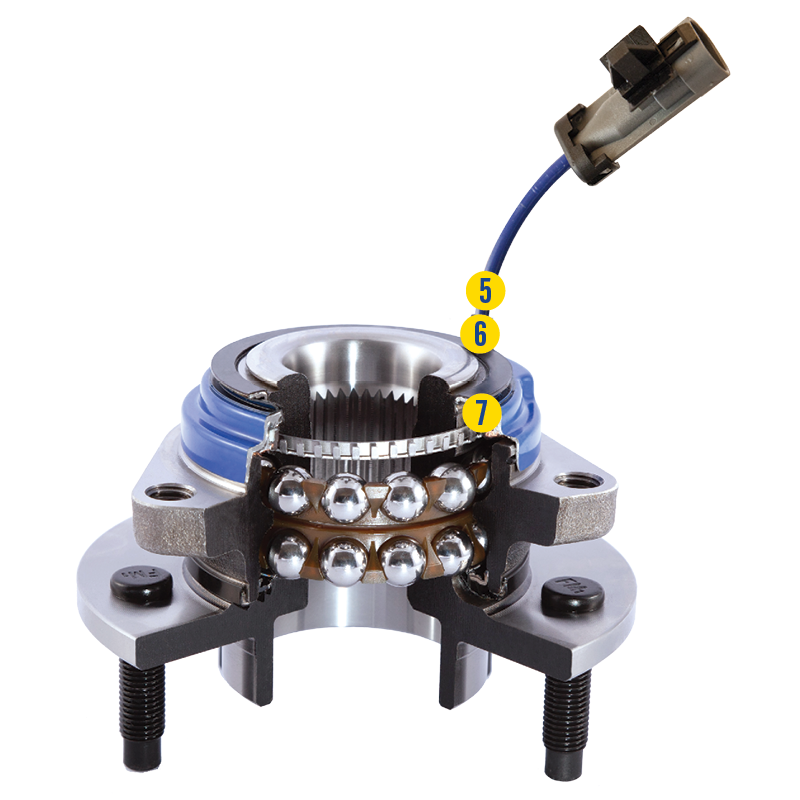 Engineered to overcome problems and deliver smooth, reliable performance.
5. Abrasion-Resistant ABS Cord for superior strength and resistance to abrasion, contamination and vibration
6. ABS Molded Shield Socket Connections for superior contamination resistance
7. 4-Layer Seal Design to help prevent contaminant damage to internal components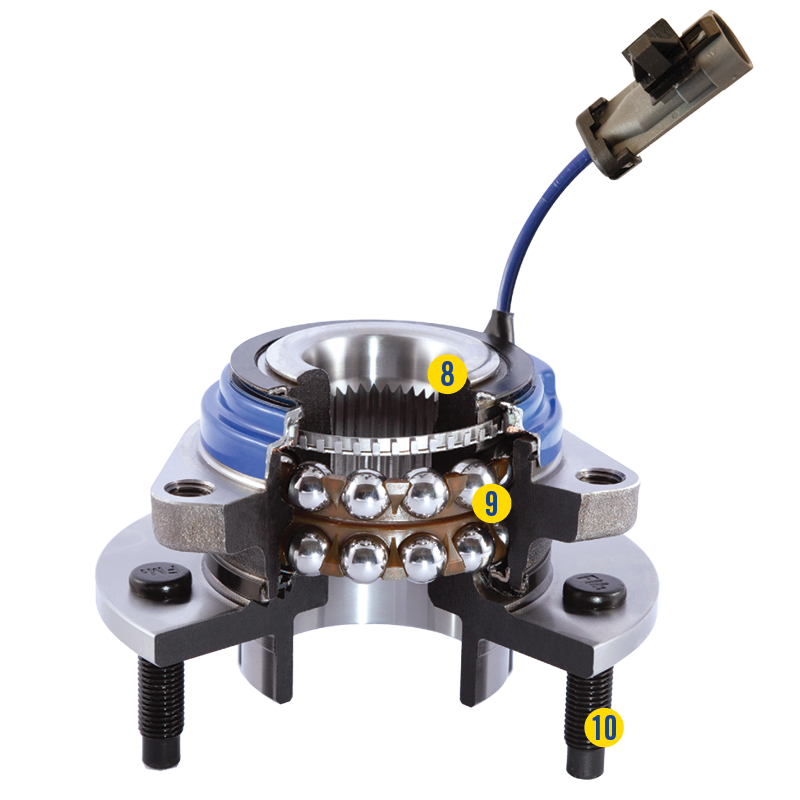 Engineered to overcome problems and deliver smooth, reliable performance.
8. Roll Form Design for consistent and optimal preload
9. Increased Ball Size, Advanced Raceway Design, and Precision Matched Components for lower friction, increased load capacity and longer service life
10. Protective Wheel Stud Coating to resist corrosion, enable easier removal and enable proper torquing
---
Where quality is critical, it has to
be MOOG
Hub assemblies are critical for safe and reliable operation of a vehicle — and they're subject to some of the harshest punishments the road can dish out. High temperatures, extreme stresses, water and contaminants can take a toll on hub assemblies that aren't up to the challenge. That's why MOOG engineers continually introduce purpose-specific innovations that stand strong against harsh conditions — and make MOOG hub assemblies durable and reliable for years of hassle-free operation.
---
High Utilization
Hub Assemblies
Strong, durable designs for hard-working trucks
MOOG's commitment to continuous innovation means making existing designs even better. MOOG makes hub assemblies for a broad range of vehicles, so even older trucks can be fitted with our latest hub assembly innovations.
MOOG High Utilization Enhancements:
Heat Shield
Heat-reflecting shield protects the ABS sensor cable from high heat that heavy vehicles generate during braking.
Next Generation Design
Outboard bearing race integrated into spindle for increased strength and durability.
Enhanced Inboard Seal
Our quad-lip seal design made from premium rubber and a high-quality stainless steel shield provides long-lasting protection against water and contaminants.
Grime Defense Outboard Seal
Enhanced outboard seal provides maximum protection against water, dust, salt and road grime.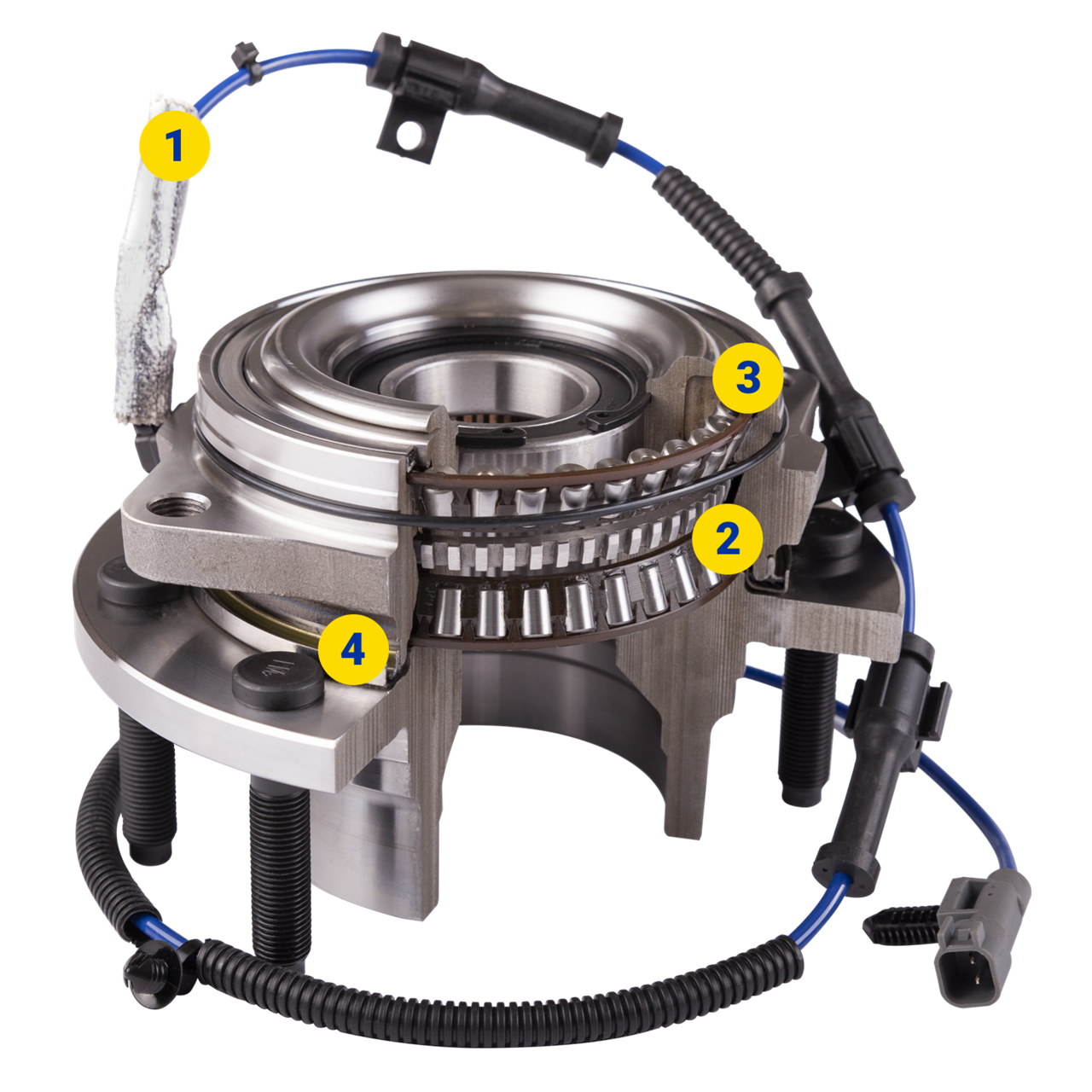 Find Your Wheel End Product
Search for your part by vehicle year, make and model.