Chase Elliott Crew Chief Alan Gustafson Becomes First Two-Time Winner of MOOG 'Problem Solver of the Year' Award
Veteran Crew Chief Wins Prestigious $100,000 Award After Helping Guide Rookie Driver Into Chase for the Sprint Cup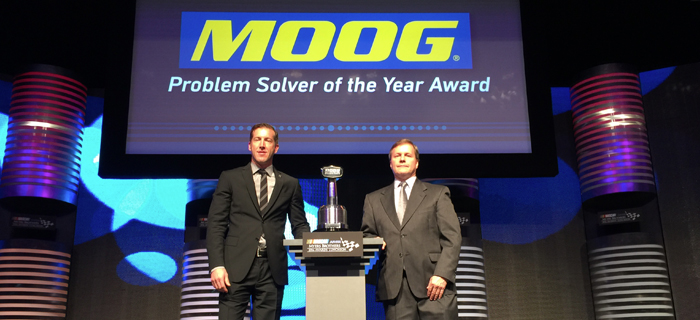 Southfield, Mich., December 1, 2016…Alan Gustafson, crew chief for Chase Elliott and Hendrick Motorsports' No. 24 NAPA Auto Parts Chevrolet, today became the first two-time winner of the prestigious MOOG® "Problem Solver of the Year" Award, which recognizes the best overall performance by a crew chief in the NASCAR® Sprint Cup Series. Gustafson, who first won the award in 2011, received a handcrafted MOOG ball joint trophy and a check for $100,000 during today's NMPA Myers Brothers Awards Ceremony in Las Vegas. MOOG, the Official Steering and Suspension of NASCAR, is a brand of Federal-Mogul Motorparts, a division of Federal-Mogul Holdings Corporation (NASDAQ: FDML).
Gustafson earned the annual MOOG award based on his series-best five weekly MOOG "Problem Solver of the Race" Awards, presented to the crew chief whose car has delivered the greatest second-half improvement in average lap time while finishing on the lead lap. Three crew chiefs – Jason Ratcliff (Matt Kenseth, No. 20 Toyota), Tony Gibson (Kurt Busch, No. 41 Chevrolet) and Chad Johnson (Kyle Larson, No. 42 Chevrolet) – tied for runner-up honors with four weekly MOOG awards apiece. Fifteen different crew chiefs received the weekly award throughout the 36-race season.
"Alan's steady hand helped the 24 team overcome the retirement of a legendary driver (Jeff Gordon) and launched the career of one of the sport's most promising new talents (Elliott)," said Tim Nelson, director of motorsports for Federal-Mogul Motorparts. "Five weekly MOOG wins, 10 top-five finishes, a return to the Chase, the Rookie of the Year award for his driver, and now the MOOG Problem Solver of the Year Award – 2016 will surely go down as one of the most accomplished of Alan's career."
Gustafson won the weekly MOOG award at Auto Club Speedway in March, Texas Motor Speedway in April and November, Michigan International Speedway in June, and Dover International Speedway in October.  The 24 car finished in the top five in four of those events and sixth in the other. Elliott finished the season in 10th place in Sprint Cup points.
The MOOG brand is the preferred choice of professional technicians and NASCAR crew chiefs, and every Cup champion since 1966 has driven to victory with MOOG steering and suspension parts. MOOG product engineers go the extra mile to develop innovative steering and suspension parts – including ball joints, tie rod ends, control arms, sway bar links, wheel hub assemblies, and more – that provide superior performance and durability and facilitate faster, easier installation. In recognition of these vital characteristics, NASCAR in 2015 established a mandate that Cup teams use MOOG Problem Solver parts.
To learn more about MOOG products, please contact your MOOG supplier and/or visit www.moogparts.com. Like MOOG on Facebook at www.facebook.com/moogparts and follow the brand on Twitter (@moogparts) and Instagram (www.instagram.com/moogparts) for product updates and special promotions.