Independent Testing Proves MOOG
®

Outperforms the Competition by More than 5 Times in Durability Tests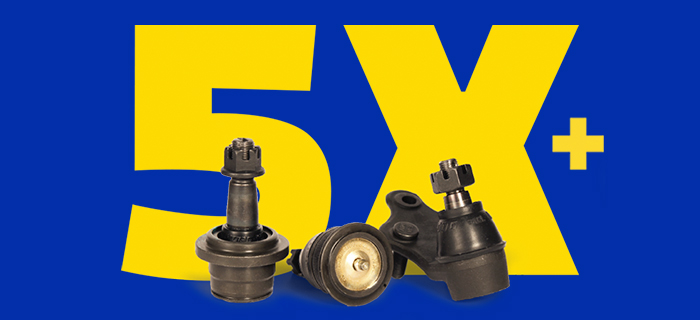 Only MOOG Ball Studs Proven to be 'OE Quality or Better' in Metallurgical Testing

Southfield, Mich., November 2, 2016…A series of independent tests of replacement ball joints that are commonly marketed as offering "original equipment quality or better" showed that just one aftermarket brand – MOOG® – achieved that standard in metallurgical testing.  Announced at the Automotive Aftermarket Products Expo (AAPEX) in Las Vegas, the test results also showed that MOOG ball joints for three leading automotive applications – 2007 Chevrolet Silverado, 2013 Ford F-150 and 2007 Toyota Camry – offer more than five times greater durability than the corresponding parts from three competing brands.  MOOG is a brand of global vehicle components manufacturer Federal-Mogul Motorparts, a division of Federal-Mogul Holdings Corporation (NASDAQ: FDML).
Metallurgical analysis of the ball studs utilized in Centric, MAS, Mevotech Supreme and MOOG ball joints for the three applications showed that only the MOOG parts met or exceeded the characteristics of the original equipment ball studs as evaluated in accordance with ASTM 415-15, ASTM E340-15, and ASTM E18-16 standard test methods.  MOOG, MAS, Mevotech Supreme and Centric ball joint stud metallurgy was compared to the OE (original equipment) stud metallurgy.  Stud metallurgy was analyzed by evaluating chemical composition, heat treatment, shot peening and the impact of those factors on stud fatigue life.  Testing was performed by St. Louis Testing Laboratories, Inc., St. Louis, and the results analyzed by Anderson & Associates, Inc., Houston.

Multi-axial durability testing of the Centric, MAS, Mevotech Supreme and MOOG ball joints showed that the MOOG parts provided more than five times the durability of the competing ball joints.  In each test – performed on a Multi-Axial Durability Suspension Simulator to simulate ball joint service life on a vehicle – the ball stud of the Mevotech Supreme part was the first to fracture, followed by the Centric and MAS parts.  Durability testing was conducted by B83 Testing & Engineering, Inc., Milwaukee.
"MOOG always goes the extra mile by investing in continuous innovation, conducting rigorous testing, ensuring product durability and delivering the most comprehensive coverage.  These tests reinforce a fact that many automotive service professionals already understand – there are significant quality and performance differences between MOOG and other brands of steering and suspension components," said Michael Proud, vice president, marketing, Americas, Federal-Mogul Motorparts.  "This is an important message that we are communicating every day to repair shop owners, service writers, professional technicians and to millions of consumers across North America."
MOOG has also launched a brand new app for customers.  Download the "MOOG Parts" app at www.Moogparts.com/SomethingBig to receive the latest news and information about all MOOG products.  

Visit the MOOG booth at AAPEX in the Federal-Mogul Motorparts exhibit (3217).  For more detailed information about the testing results or to find out more, visit our website at www.MOOGparts.com.  You can also search for MOOG Steering and Suspension on Facebook, and follow MOOG on Twitter at www.Twitter.com/MOOGparts and Instagram at www.Instagram.com/MOOGparts.