New MOOG® compression-loaded ball joint design
Exclusive Problem Solver® Design Features Premium Forged Housing and Patent-Pending, Pre-Installed Dust Boot for Exceptional Durability, Faster Installation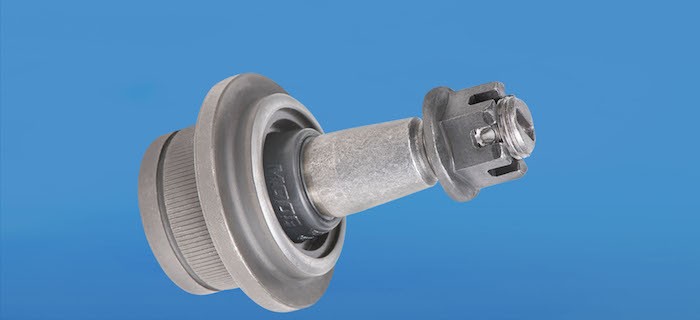 Southfield, Michigan, October 27, 2015  Federal-Mogul Motorparts' MOOG® Steering and Suspension brand has introduced an innovative, high-strength replacement load-carrying ball joint for a broad range of late-model vehicles equipped with compression-loaded suspension systems. The exclusive new MOOG Problem Solver® ball joint is visually different from conventional ball joints as a result of its pre-installed patent-pending, low-profile integral dust boot with encapsulated Belleville washer design. This next-generation boot helps technicians save time in the repair bay while providing a significantly larger contact area against the ball stud, ensuring a more robust and effective seal.
"Technicians will immediately notice the difference in this premium Problem Solver part when they open the box,"said Bryon Osterland, general manager, global steering and suspension, Federal-Mogul Motorparts. "Virtually every aspect of the design represents a significant enhancement in ball joint technology. The premium forged housing is more robust, the part offers superior stud motion right out of the box, and the low-profile, integral boot sets a new standard for performance and time-saving convenience."
Engineered for superior strength and durability, the new ball joint features a hardened ball stud that withstands higher loads, a premium forged housing with an increased cross-section having up to 52 percent more material in key areas, and a patent-pending hardened steel bearing sleeve with powered-metal gusher bearing to provide controlled axial and radial movement. The time-saving pre-installed, integral dust boot is manufactured from stronger material, as well, to ensure superior durability and service life. Also included is a pre-tapped grease fitting hole for easy installation of a threaded grease fitting.
To learn more about MOOG Steering and Suspension parts, please visit the technician-focused www.moogparts.com website or contact your MOOG supplier. Like MOOG on Facebook at www.facebook.com/moogproblemsolver and follow the brand on Twitter (@MOOGParts) for product updates and special promotions.