Ball joints and the independent front suspension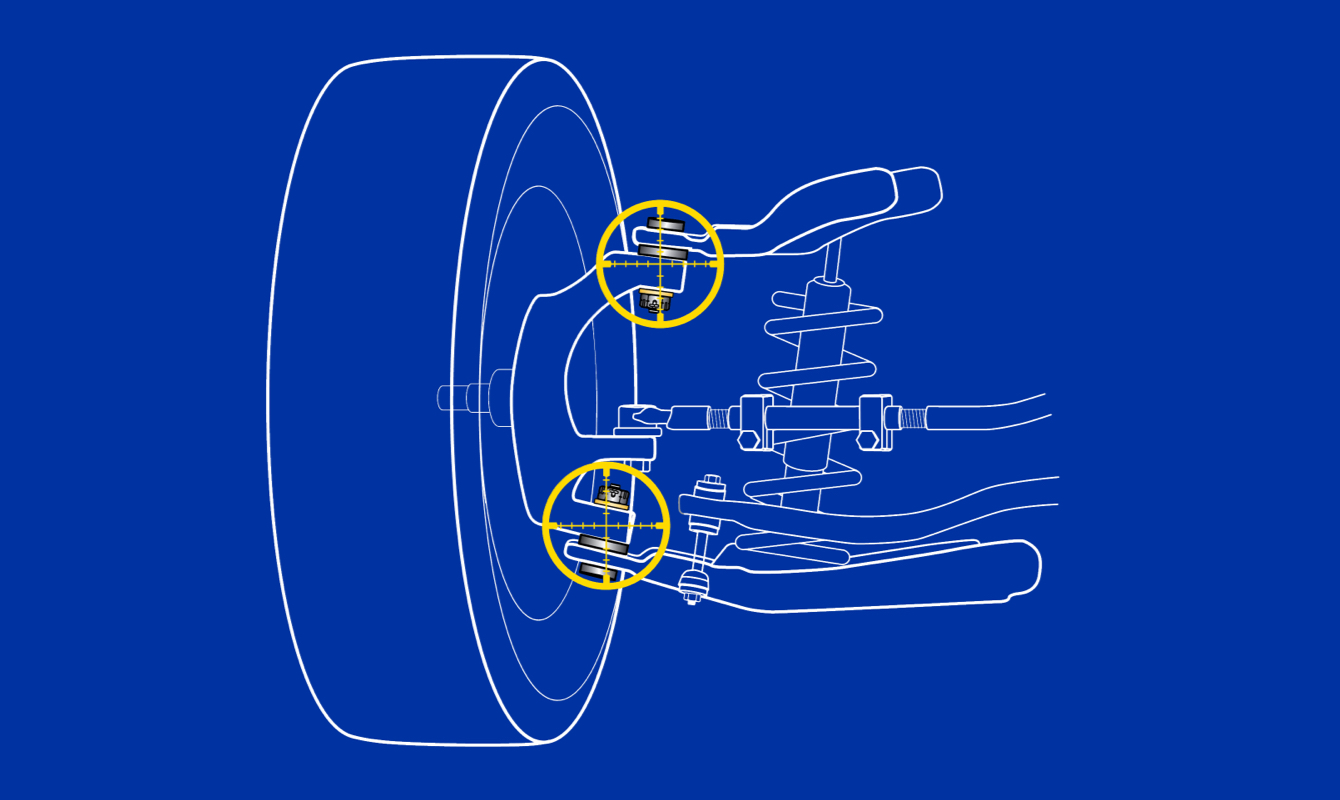 Ball joints are a component of the front suspension of a car. The front suspension is a complex assembly of links, joints, bushings and bearings that allow your front wheels to move up and down independently and turn left or right together. Ball joints allow suspension movement which maximizes the tire's contact with the road providing optimum vehicle control and tire wear.

Ball joints are the critical component of the front suspension that connect various links and allow them to move.  Ball joints consist of a ball and socket similar to the hip joint of the human body. Ball joints of your front suspension provide pivoting movement between the steering knuckles and control arms to provide a safe, smooth ride and allow you to precisely control your vehicle.
What are the parts of a typical ball joint?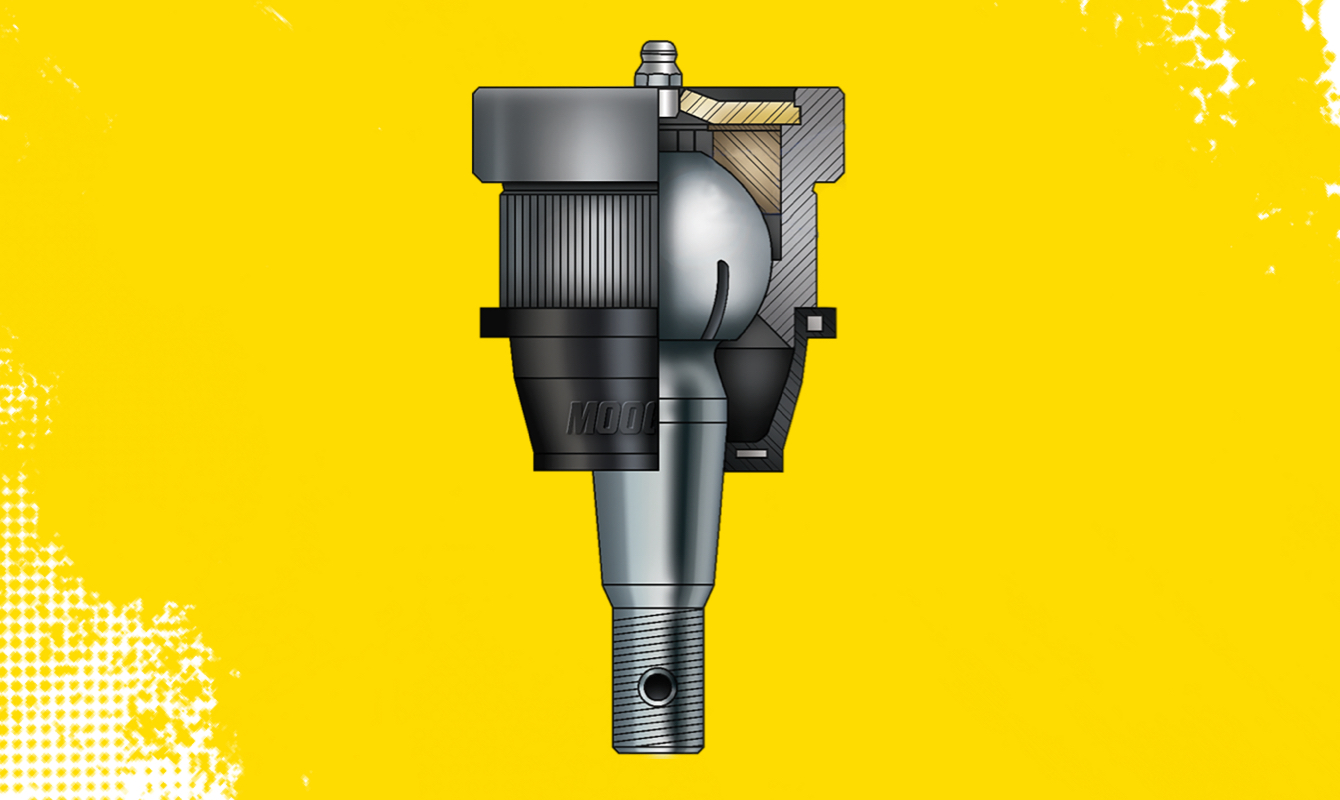 Ball joints consist of a metal housing and a stud that can swing and rotate within the housing. Bearings inside the housing are placed between the ball stud and housing to help reduce wear and friction. The socket is filled with grease to provide lubrication, keep debris and water out of the socket, and maintain noise free operation. A rubber boot, located at the opening of the joint, keeps debris out and grease in. Lastly, the assembly is closed with a method such as the MOOG® pressed-in cover plate.
Many original equipment ball joints are designed as sealed units. If the protective boot fails, water and road debris will quickly cause wear and ball joint failure. Some aftermarket ball joints use an improved greaseable design that allows lubrication to flush out contaminants to extend the life of the joints.
What are the different types of ball joints?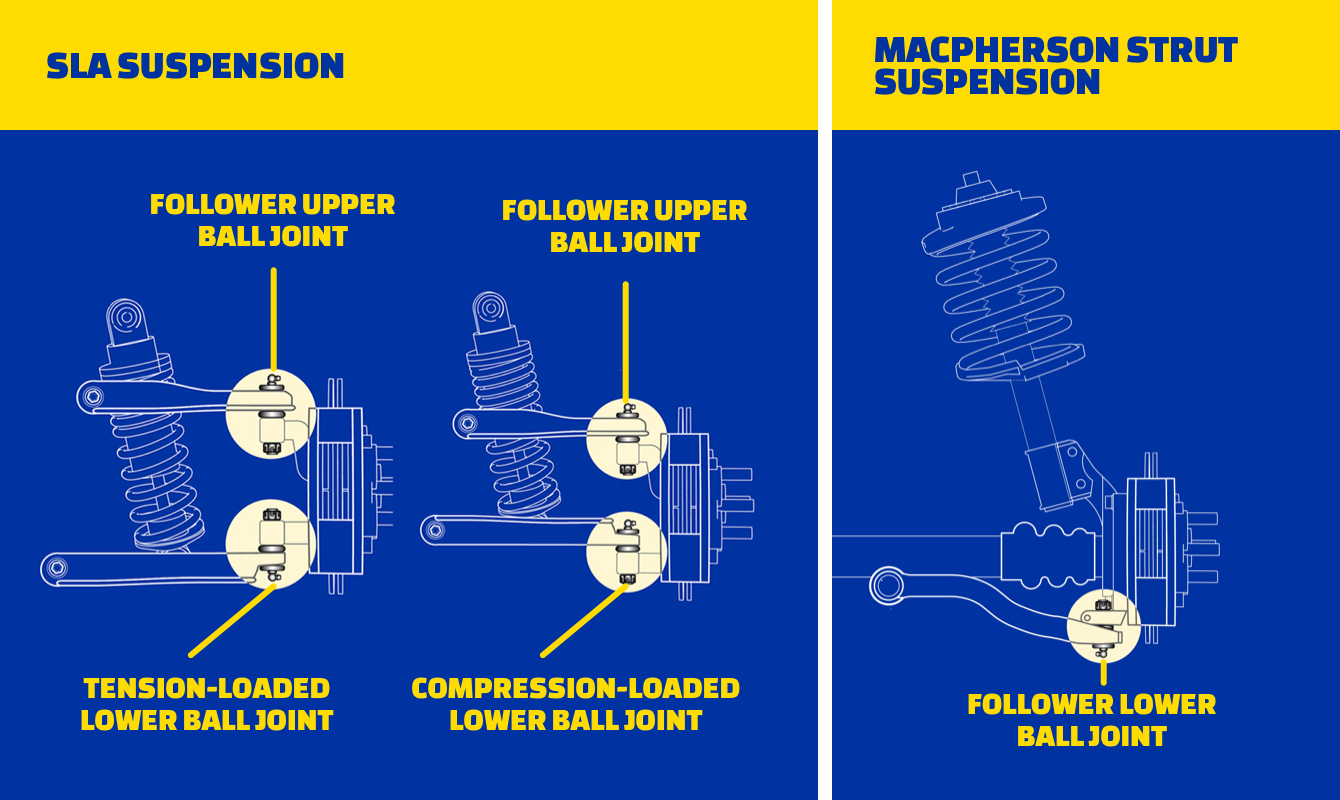 In your vehicle, you'll find two different types of ball joints – upper ball joints and lower ball joints. While each of these ball joints serve different functions but both work together to keep steering reliable and responsive.

Upper Ball Joints
Designed to maintain alignment and absorb radial loads, such as turning forces, upper ball joints enable proper rotation of steering knuckle. Upper ball joints use a follower design.
Lower Ball Joints
Acting as a pivot point for the steering system, lower ball joints can either be load-carrying or follower types depending on the suspension design. Lower ball joints use a variety of designs: compression loaded, tension loaded and follower.
In a short long arm (SLA) suspension system, compression- and tension-loaded ball joints are load carrying ball joints that support the vehicle's weight. These ball joints typically wear faster due to the additional stress on the socket. In MacPherson strut suspension systems, the lower ball joint is a follower design. Although they do not support the weight of the vehicle, they receive loading during cornering and braking.
Symptoms of Bad Ball Joints
Worn ball joints are a problem that shouldn't be ignored. Signs of worn ball joints include steering wheel pull, uneven tire wear and front-end shimmy. Learn more about the signs of worn ball joints.
MOOG Ball Joints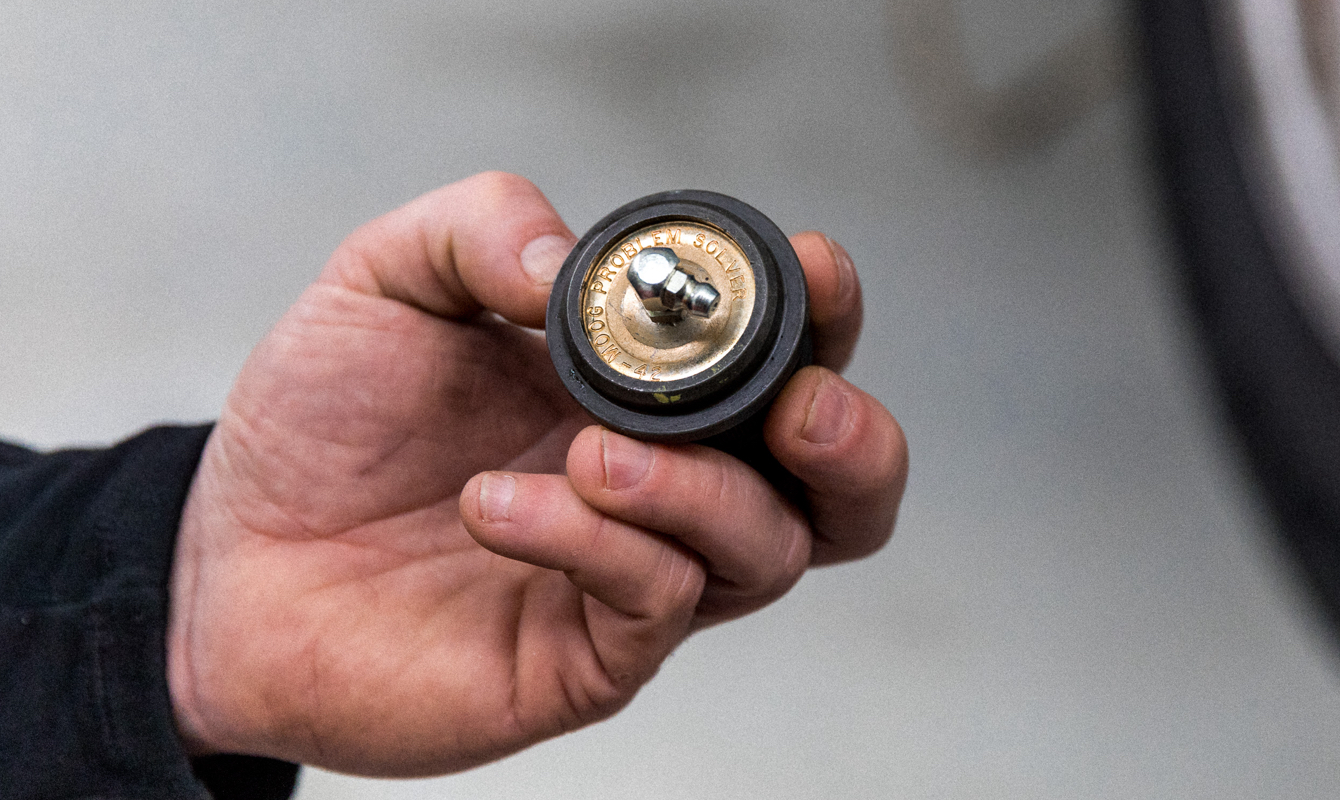 When you need to replace a ball joint, MOOG has a ball joint for the repair. MOOG ball joints include technologies to increase strength and durability, extend service life and improve ease of installation. They restore like-new steering with application-specific features such as patented pressed-in cover plate and integral dust boot, instilling confidence with each install.
Learn more about premium steering and suspension parts, find your car part, or find where to buy your auto part today.
The content in this article is for informational purposes only. You should consult with a certified technician or mechanic if you have questions relating to any of the topics covered herein. Tenneco will not be liable for any loss or damage caused by your reliance on any content.
Other Parts For Your Vehicle
MOOG® offers a wide variety of auto parts for all your vehicle needs.
Check them out today!