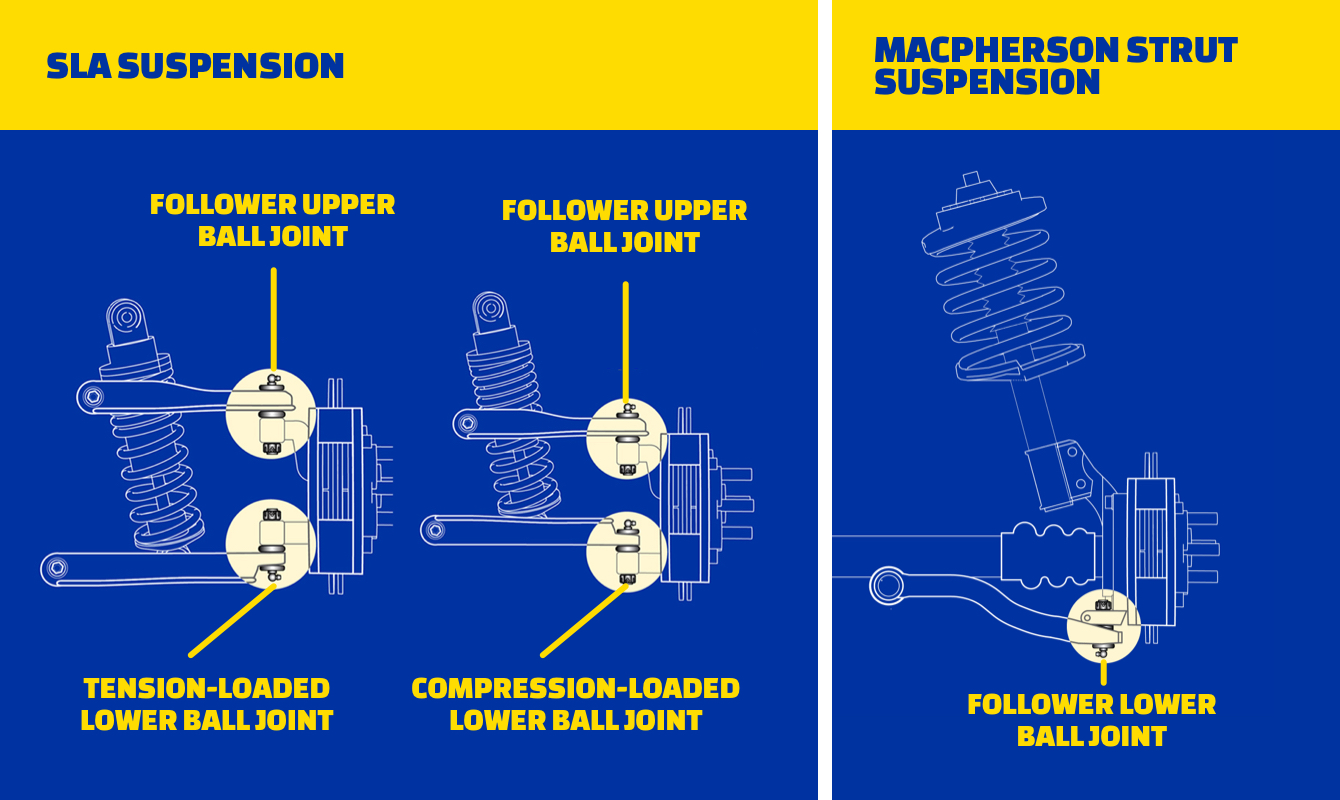 Ball joints are a component of the front suspension of a car. The front suspension is a complex assembly of links, joints, bushings and bearings that allow your front wheels to move up and down independently and turn left or right together. Throughout the motion of the suspension it maximizes the tire's contact with the road for optimum vehicle control and tire wear. Ball joints are the critical component of the front suspension that connect various links and allow them to move.  Ball joints consist of a ball and socket similar to the hip joint of the human body. Ball joints of your front suspension provide pivoting movement between the steering knuckles and control arms to provide a safe, smooth ride and allow you to precisely control your vehicle.
What do ball joints consist of?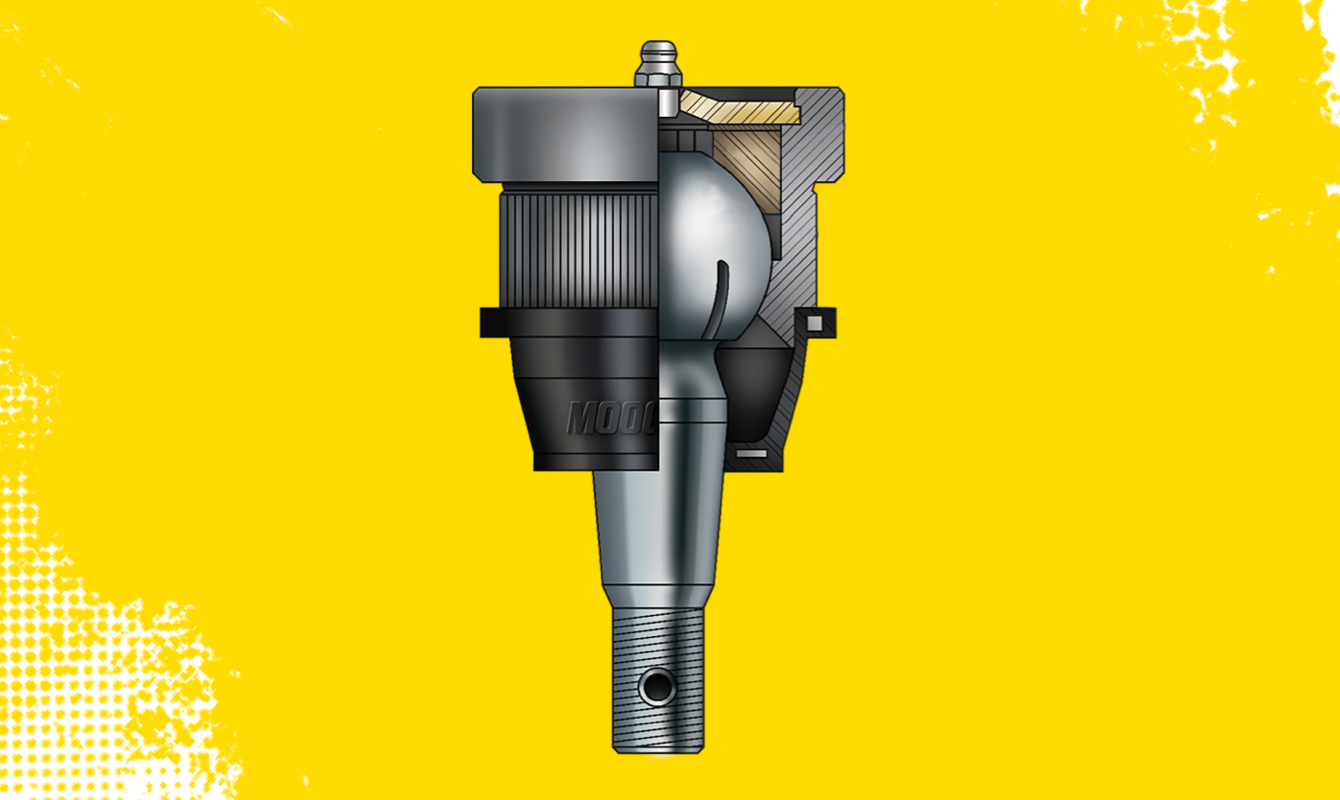 Ball joints consist of a metal housing and stud. The stud can swing and rotate within the housing. Bearings inside the housing can be comprised of metal or plastic. The socket is filled with grease to provide lubrication, keep debris and water out of the socket, and maintain noise free operation. A rubber boot opening of the joint to keep debris out and grease in. Many original equipment ball joints are designed as sealed units. If the protective boot fails, water and road debris will quickly cause wear and ball joint failure. Some aftermarket ball joints use an improved design that allows lubrication to flush out contaminants to extend the life of the joints.
What are the symptoms of worn ball joints?
Maintaining a good dust seal and lubrication in the socket are important to maximizing ball joint life. Worn ball joints contribute to looseness in the front suspension. If the looseness is severe, the driver may notice steering looseness, steering vibration, or unusual noises but it often causes other problems before it may be noticeable to the driver. For instance, worn ball joints prevent your vehicle from maintaining wheel alignment. This may result in the tires not maintaining optimum contact with the road. This may contribute to excessive tire wear, shortening the life of your expensive tires.
What are the risks of driving with a bad ball joint?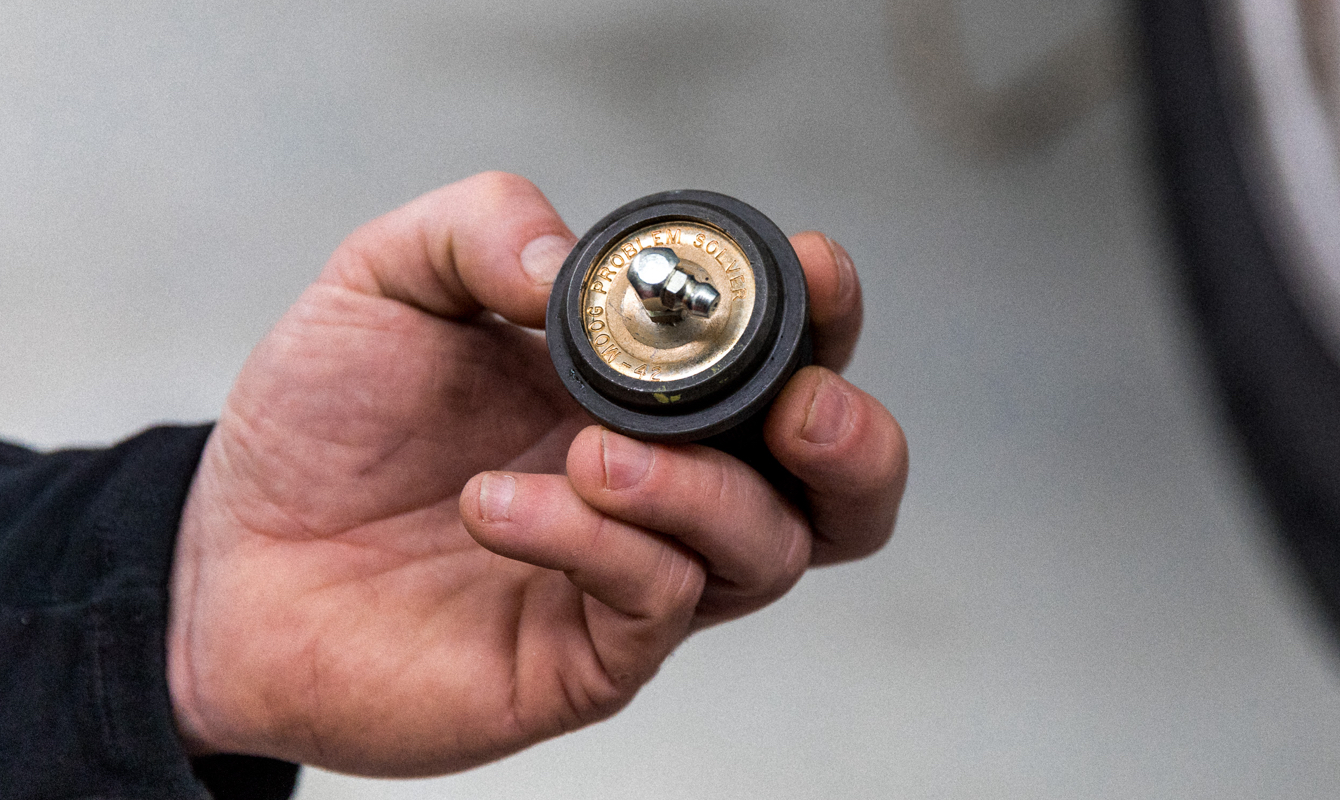 A worn ball joint is not a problem that should be ignored. If the wear becomes severe, the stud may separate from the housing resulting in immediate loss of control of your vehicle which may put everyone in danger. Should you suspect worn ball joints, you should have your vehicle checked by a professional mechanic who has experience with diagnosing suspension problems.
Learn more about premium steering and suspension parts, find your car part, or find where to buy your auto part today.
The content contained in this article is for informational purposes only and should not be used in lieu of seeking professional advice from a certified technician or mechanic. We encourage you to consult with a certified technician or mechanic if you have specific questions or concerns relating to any of the topics covered herein. Under no circumstances will we be liable for any loss or damage caused by your reliance on any content.
Other Parts For Your Vehicle
MOOG® offers a wide variety of auto parts for all your vehicle needs.
Check them out today!