PRODUCT SPOTLIGHT
By constantly introducing design enhancements that extend product life or simplify installation and replacement, MOOG® has earned its reputation as the chassis industry's problem solver for 100 years. Through extensive testing and continuous innovation, the MOOG complete knuckle assembly carries on with this problem-solving tradition.
Thanks to a cutting-edge Problem Solver® design, the MOOG complete knuckle assembly dramatically simplifies bearing replacement for many challenging applications. The preassembled part eliminates the need for special tools or a press, resulting in easier installation and possible time-savings of up to 50%. And that number doesn't include the time technicians will save from not having to locate and source multiple parts.
The unit includes the following premium components*:
By relying on this comprehensive, bolt-on solution, technicians eliminate the need to press out the original bearing and hub spindle – avoiding potential damage to these components – on select applications. This fully-unitized repair solution also helps technicians avoid complications associated with damage to or incorrect orientation of ABS encoders on the original bearings. 
Given these issues, as well as the common need to source new hub spindles and hardware for several challenging applications, those installing the part can save up to 50% of the time needed to complete the job simply by installing the MOOG complete knuckle assembly. Prior to installing a MOOG complete knuckle assembly on select vehicles, inspection of the parking brake shoes and hardware is recommended.
*Components may vary by application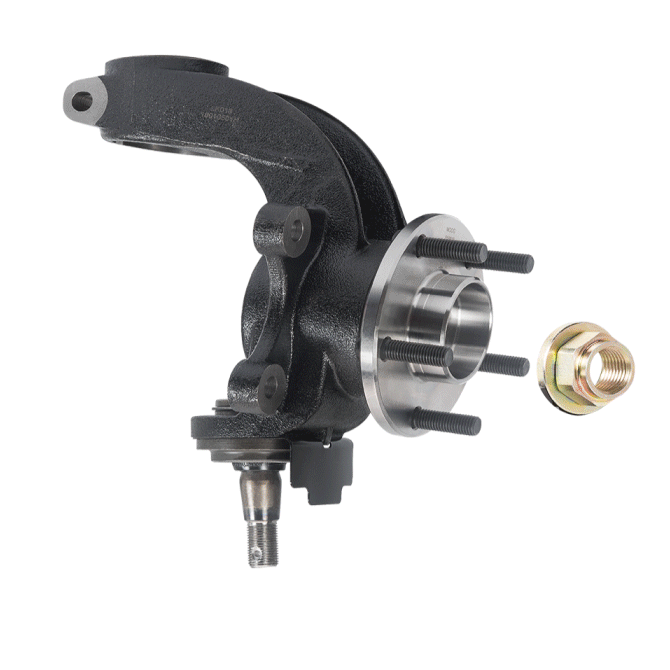 Learn more about premium steering and suspension parts, find your car part, or find where to buy your auto part today.
The content contained in this article is for informational purposes only and should not be used in lieu of seeking professional advice from a certified technician or mechanic. We encourage you to consult with a certified technician or mechanic if you have specific questions or concerns relating to any of the topics covered herein. Under no circumstances will we be liable for any loss or damage caused by your reliance on any content.