Keep Your Rig on the Road
Whether you're an over-the-road truck driver with a big rig or are driving a motorhome across the country, every day you push your heavy-duty vehicle to go further and last longer. Key to the durability and safe operation of your vehicle are the steering and suspension systems.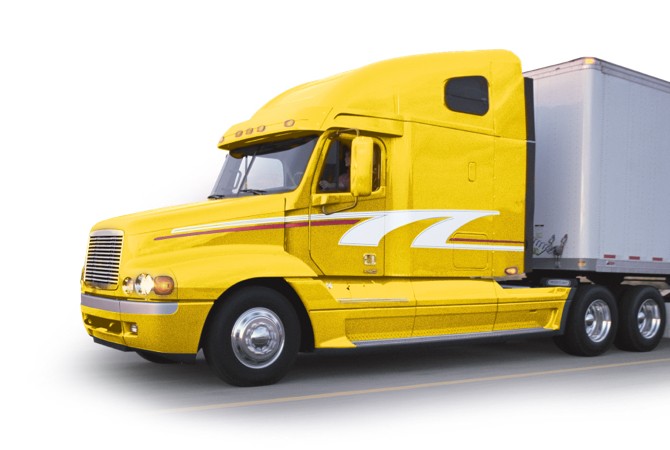 MOOG® Heavy-Duty Chassis Parts - The Right Choice
With proven long-lasting performance, MOOG heavy-duty chassis parts keep over-the-road and off-road vehicles going strong mile after mile. The precision engineering and problem-solving technologies built into MOOG products provide reliable steering and chassis solutions for Class 2C-8 vehicles.
MOOG understands the unique needs of commercial vehicles and produces a wide range of steering and suspension parts for these specialized vehicles. Using top quality chassis parts from MOOG ensures that your heavy-duty vehicle is ready for the job.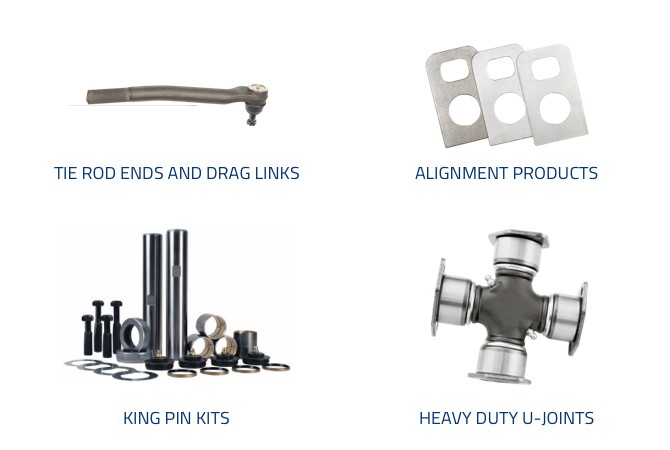 Alignment wedges
Ball joints
Cam bolt kits
Drag links
Idler arms
King pin sets
Tandem alignment shims
Tie rod dnds
Track bars
Heavy duty u-joints

Alignment Products - Alignment work presents challenges for technicians – problems that a generic assortment of "will fit" parts cannot always solve. MOOG alignment shims give you the quality, engineering and experience it takes to perform a proper alignment.
Uni-wedge truck caster shims
Truck caster shims
Cam bolts
Caster/camber bushings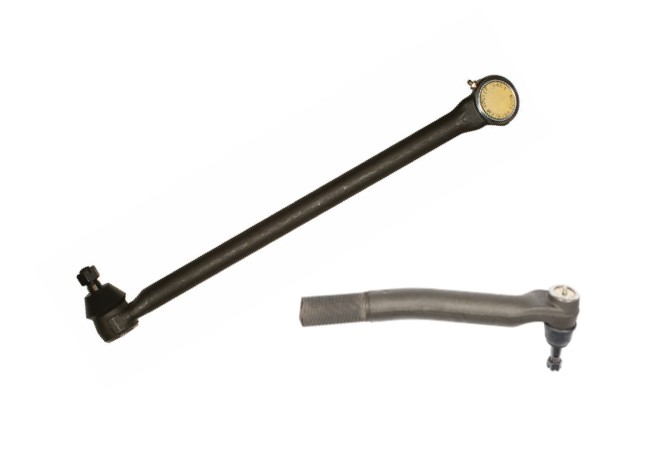 Tie Rod Ends and Drag Links – A product of the MOOG Problem Solver heritage, MOOG heavy-duty tie rod ends and drag links provide fleet-proven performance, delivering years of consistent steering effort in a strong, durable component that is engineered for easy installation.
Application-specific design enhancements include:
Lower bearing - Provides better lubrication to bearing surfaces for smoother steering
Precision-fit boot - Protects against dirt, road salt and other contaminants
MOOG patented pressed-in cover plate design and Belleville washer - Ensure proper preload and consistent socket torque for the life of the part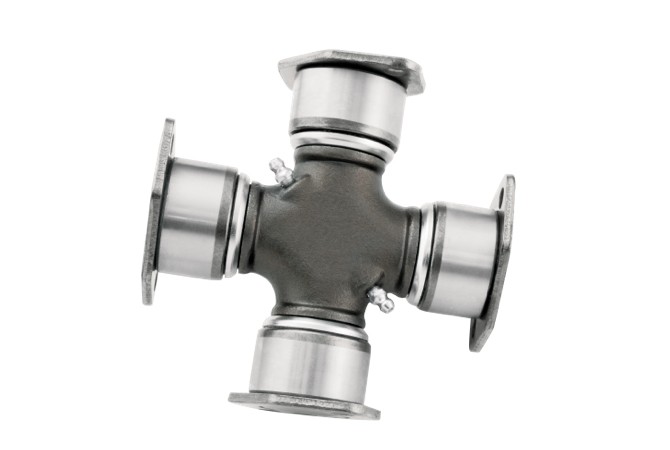 Heavy-Duty U-Joints – Built strong and durable to meet the needs of fleets, off highway and commercial vehicles, MOOG heavy duty U-joints have radial lubrication grooves and an anti-drainback feature to provide optimal lubrication flow. Their thrust washer design absorbs axial loads, preventing metal-to-metal contact.
MOOG heavy-duty u-joint features:
Cross trunnions - That are ground to a 15-25 RMS finish for a smooth surface that is free of microscopic grooves that can cause premature wear
Internal anti-drainback valve - That is integrated into the thrust washer to control lubrication flow and prevent dry start-up
Cross trunnions - With large grease reservoirs that feature radial grease channels for grease distribution
Grease fitting holes - That are drilled and tapped; most feature dual grease fittings for easier access during regular joint maintenance
Bearing cups - That are cold-formed, case-hardened and ground to stringent tolerances with quality control inspections at every step of the manufacturing process
Learn more about premium steering and suspension parts, find your car part, or find where to buy your auto part today.
The content contained in this article is for informational purposes only and should not be used in lieu of seeking professional advice from a certified technician or mechanic. We encourage you to consult with a certified technician or mechanic if you have specific questions or concerns relating to any of the topics covered herein. Under no circumstances will we be liable for any loss or damage caused by your reliance on any content.