Challenge: Selecting the Right Part for the Repair
Identifying the right replacement universal joint for your repair often requires more information than simply the make, model and year of the vehicle. This can happen when trucks of the same make and model use axles and driveshafts from multiple manufacturers within the same model year.
For example, some late-model GM and Ram trucks use different axles and driveshafts manufactured by either Dana (Spicer) or American Axle & Manufacturing (AAM). The particular driveshaft installed in a vehicle is determined by the box/cab configuration, transmission, bed length, and vehicle options. Each of these driveshafts require a specific u-joint part number.
Tips for Looking Up Replacement U-Joints
For our example of GM and Ram trucks, the OE AAM and Spicer u-joints use the same diameter bearing caps but a slightly different cap-to-cap length. MOOG®'s u-joints for these applications have the same cap-to-cap length and compensate for the slightly different lengths with varying snap ring thickness. These application-specific snap rings are provided based on the manufacturer of the OE u-joint to properly fit in the driveshaft or yoke.
This is why you'll see that there are part numbers that have an "A" or "B" suffix designation. The designation indicates the different snap ring thickness. Example shown in image below.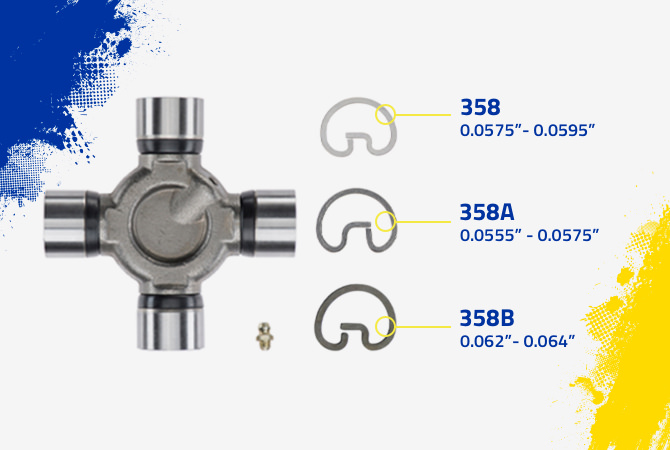 Please note that not all A or B u-joints have the same thickness. For example, 331A is 0.0545"-0.0565", while the 358A is 0.0555"-0.0575". Another designation you'll see is the "C" suffix, which indicates that it is an anti-galvanic u-joint that features chemically coated bearing cups and snap rings for corrosion protection when used in an aluminum yoke.
It is important not to reuse or measure old snap rings. The key to getting the right u-joint is to follow the listings and qualifiers in the MOOG catalog. If the cab style (standard, extended, crew, etc.), driveshaft/yoke configuration (2- or 3-joint shaft; aluminum or steel; etc.), or other factors affecting u-joint selection are unknown, carefully measure the u-joint or attempt to identify the driveshaft.
Learn more about premium steering and suspension parts, find your car part, or find where to buy your auto part today.
The content in this article is for informational purposes only. You should consult with a certified technician or mechanic if you have questions relating to any of the topics covered herein. Tenneco will not be liable for any loss or damage caused by your reliance on any content.