Hub Assembly Installation
When installing a MOOG® hub assembly on certain Ford, Lincoln and Mercury SUVs, it is necessary to remove the parking brake shoe. When installing the parking brake shoe return spring, technicians may encounter an extremely tight clearance issue which will not allow the spring to be properly installed.
Incorrect Due to Interference
This is due to the interference between the lug bolt and the parking brake boss.
Correct Placement
Lug bolts parallel.
Step 1
Align two lug bolts parallel with parking brake boss.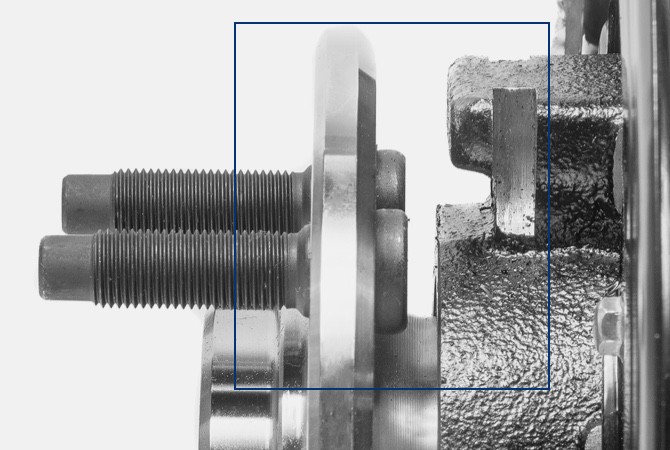 Step 2
Attach the rear shoe and then attach the return spring to the rear shoe and hook it to the front shoe.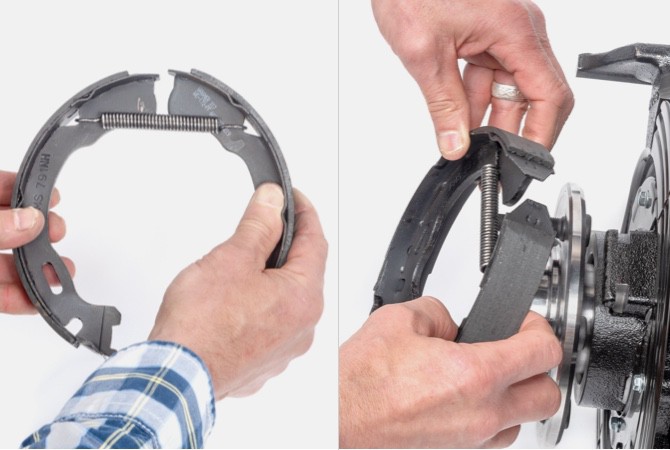 Step 3
Using the front shoe and the parking brake boss' leverage, rotate the front shoe onto the knuckle.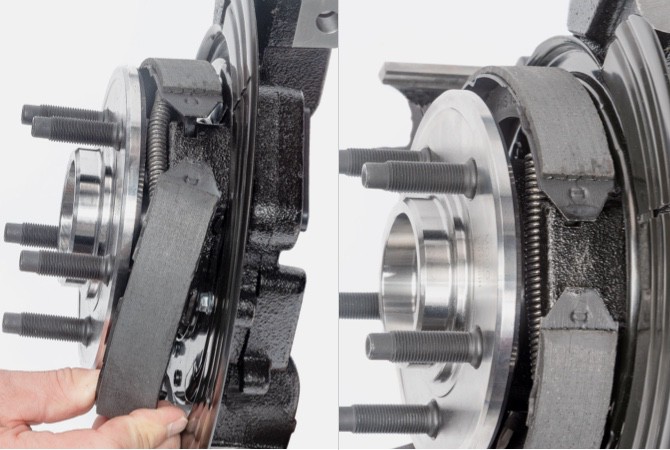 Step 4
Install the parking brake pin and pin retainer.
Step 5
Install star wheel and install the brake shoe adjusting screw.
Step 6
Install lower spring and adjust to size.
Step 7
Use the Brake Adjusting Gauge to measure the inside diameter of the parking brake drum.
Step 8
Adjust the parking brake shoe clearance of 1.07 mm (0.04 in) less than the inside diameter of the parking brake drum.
Step 9
Make sure that the parking brake shoes are correctly centered and measure across the center point of the shoes.
Step 10
Rotate the parking brake shoe adjuster wheel to achieve the correct parking brake shoe to brake disc clearance.
Cut the Hassle with MOOG® Complete Knuckle Assemblies
A solution to avoiding clearance issues is to install a MOOG complete knuckle assembly. Pre-assembled for convenience, MOOG complete knuckle assemblies (shown below in table) include the parking brake shoe for a complete solution. Easy to install, the innovative bolt-on solution makes troublesome bearing replacement easier and eliminates the need for special tools or a press, resulting in possible time-savings up to 50%.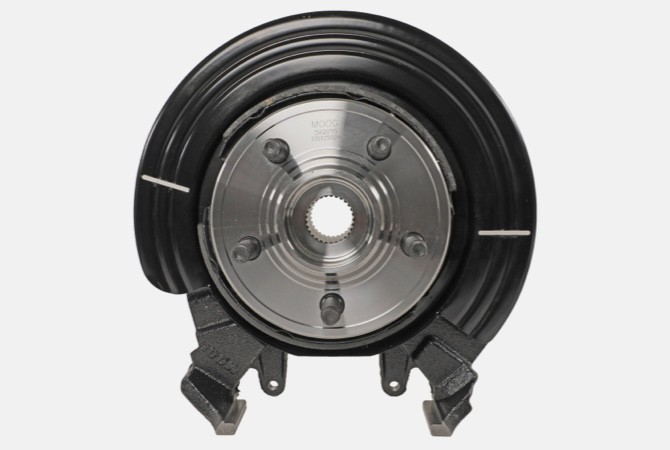 ---
Learn more about premium steering and suspension parts, find your car part, or find where to buy your auto part today.
The content contained in this article is for informational purposes only and should not be used in lieu of seeking professional advice from a certified technician or mechanic. We encourage you to consult with a certified technician or mechanic if you have specific questions or concerns relating to any of the topics covered herein. Under no circumstances will we be liable for any loss or damage caused by your reliance on any content.